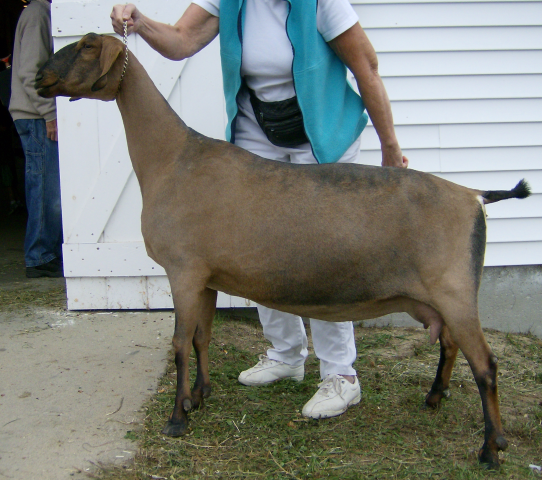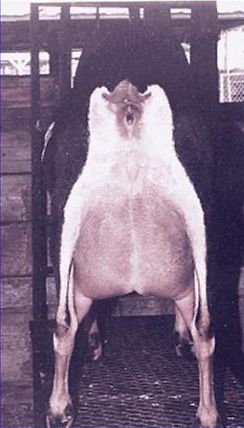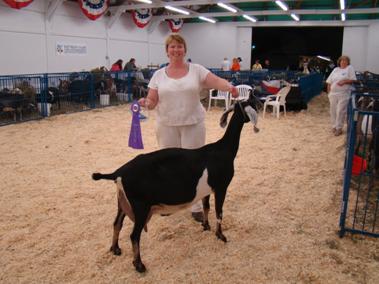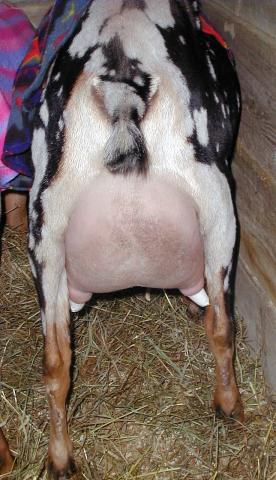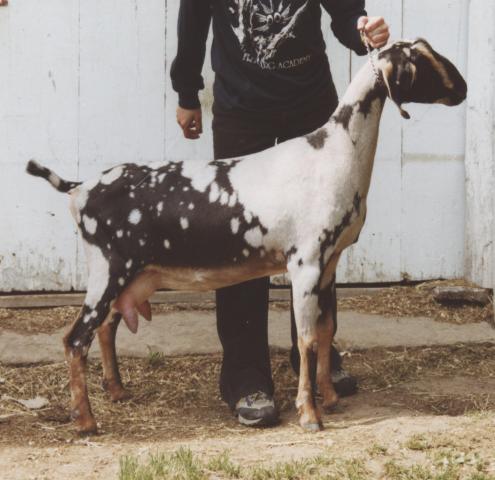 DOB: 3/30/93 NO: N897905
2*M (AI breeding) LA: EEEE92
Best Of Breed 26 times - Best In Show 13 times.
Res. Grand Champion 5 times
Grand Champion 6 times
Best Udder In Show 16 times
SIRE: Brown Sugar's Crown Ambassador
+*B NO: 729928
DAM: Rams Dancing Shoes Faith NO: 799565
*M
CH Rams Sofine & Top Brass Jasmine
DOB: 03/25/96 NO: PN1004432
(AI breeding)     LA:EVEE 91 (IN 2001)
JASMINE PLACED SEVENTH AT THE
NATIONALS IN 2001!
Best of Breed 11 times - Best in Show 3 times Grand Champion 6 times
Res. Grand Champion 9 times - Best Udder 4 times
SIRE: Kastdemur's Top Brass NO: N728275
++*B
DAM: GCH Rams B.S. & Faith's So Fine 2*M NO: N943291
GCH Rams Tiger & Beauty's Image
DOB: 3/18/97
3*M (AI breeding) LA: VEEV 89 NO: 134870
Best of Breed 4 times - Best Doe in Show twice
Best Junior Doe 2 times - Grand Champion 5 times
Res. Grand Champion 2 times
Futurity Kid class 1 time
SIRE: Crown Point ZDG Tiger Paws
++*B NO: 728275
DAM: GCH Rams Crown Black Beauty
2*M (AI breeding) NO: 897905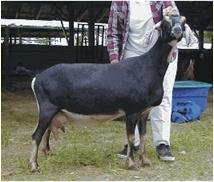 CH Rams Daisy & Magic Mona Lisa
DOB: 3/11/99 LA2007: VEEV 92 NO:N1109851
BEST DOE IN SHOW 8 times - BEST OF BREED 17 times - Grand Champion five times - Reserved Grand Champion seven times - Grand Champion Junior Nubian
SIRE: *B Ram's Beauty and Top Brass Magic
LA: July 2000 VVV 87 NO:N1015103
DAM: 2*M GCH Rams A & K Golden Daisy
DOB: 3/19/92 LA: EVEE90 NO:N873167
CH Rams Crown Image Silhouette    BD 3/18/01
Sire: CH *B Desert Acres Crown Diplomat
Dam: GCH Rams Tiger and Beauty's Image
3*M LA VEEV 89
SSS: ++*B Ker-A-Tin Acres Royal Majesty
SS: ++*B Brown Sugar's Crown Ambassador EEV 90
SSD: GCH Brown Sugar's Chardonnay 5*M
CH Rams Galaxy & Tif Beauty's Shadow      DOB: 4/20/02
LA:  VEEV89                                   NO: N1224689
Best Of Breed 6 times - Grand Champion 4 times    
Res. Grand Champion 3 times
SIRE: +B Inavale Galaxy   NO: N1017488     
DAM: CH Rams Prince's Kiss Tiffany    LA EEEE 90
NO: N110985                              DOB 3/14/99           
GCH Rams Hunk & Shadow Lani   1*M   
DOB: 03/15/2006
LA VVVV 87
SIRE: Rams Hunk A Burnin Love
DAM: Rams Galaxy & Tif Beauty's Shadow  
LA VEEE 90
SIRE'S SIRE: +B Kastdemur's Aesop
SIRE'S DAM: Rams Camelot Beauty's Breeze
DAM'S SIRE: +B SG Inavale Galaxy
DAM'S DAM: CH Rams Prince's Kiss Tiffany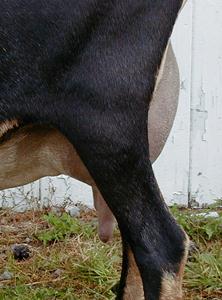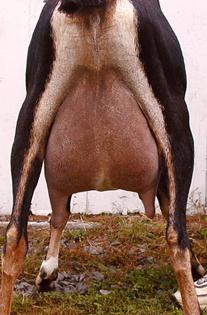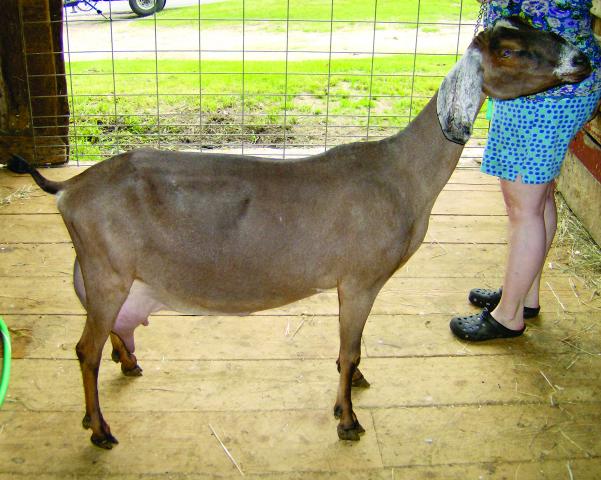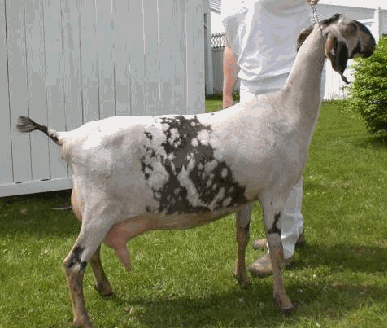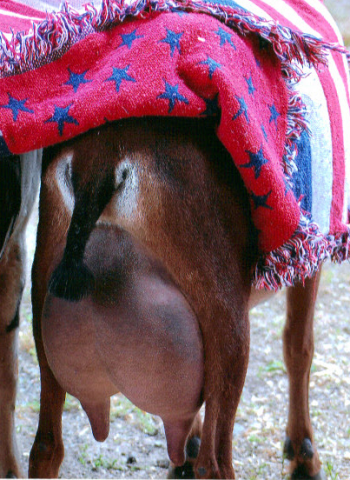 CH Rams Silouette & Aesop Neechi
DOB: 03/17/2006
LA:  EEVE 90                           NO: N1366081
SIRE: Kastdemur's Aesop *B  LA 90 EEV
DAM: CH Rams BS & Image Silouette       
SS: *B Kastdemur's LH Full Service
LA: 02-06 91 EEE

SD: GCH Kastdemur's Hailey 3*M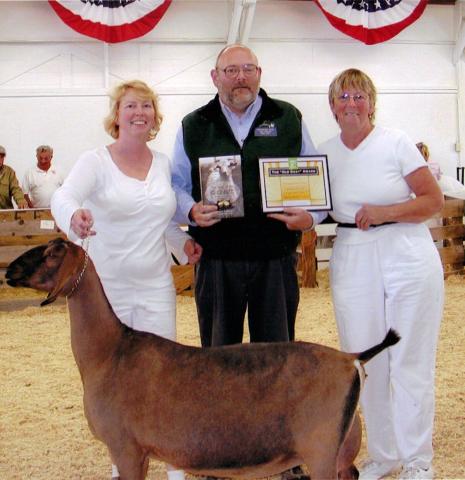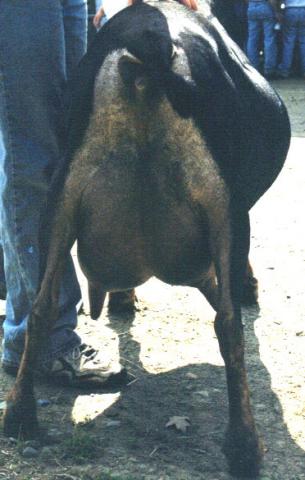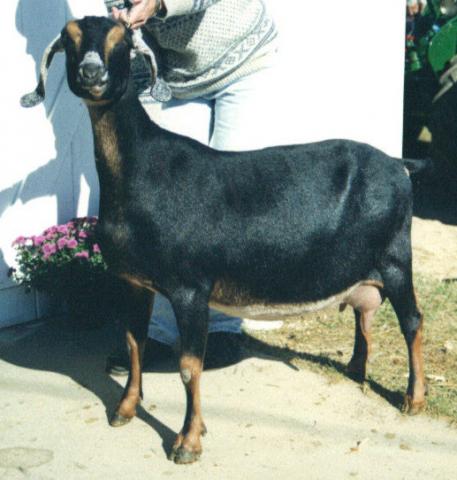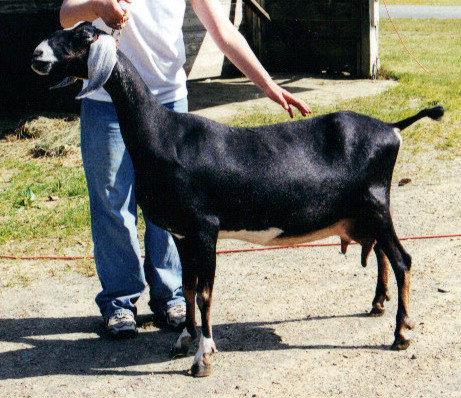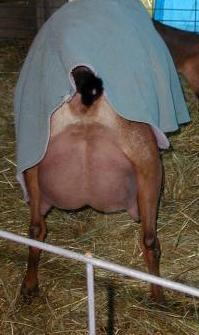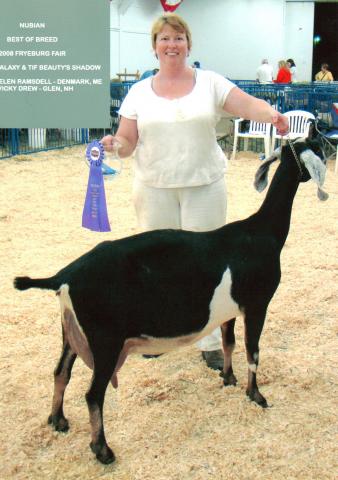 GCH Rams Prince's Kiss Tiffany
DOB: 3/14/99
LA: EEEE 90 2001 NO: 110985
SIRE: *B Ram's Beauty's Prince NO: N1034869
DAM: CH Rams Top Brass and Beauty's Kiss
LA: V+EV 87 NO: 1004434
Best Udder in Show
Reserve Grand Champion
1 Restricted Leg– 1 Grand CH Leg
GCH Rams B.S. & Faith's So Fine
DOB: 4/21/94
2*M (AI breeding) LA: VEEV89 NO: 943291
Best Of Breed 2 times - Grand Champion 6 times
Res. Grand Champion 3 times
SIRE: Brown Sugar's Double Stuff NO: 763977
+*B
DAM: Rams Dancing Shoes Faith NO: 799565
1*M